Northrock Business Park is a 35-acre business center designed to provide east Wichita with premier office and warehouse space. The park combines a quality business environment with a community atmosphere to create a major destination for Wichita's growing local businesses.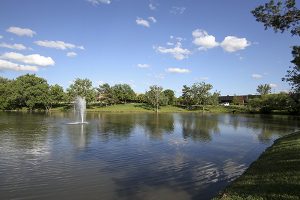 Northrock Business Park totals nearly 300,000 square feet of office, warehouse, and service space in eighteen buildings. We proudly offer Wichita businesses the location, amenities, and resources needed to compete in today's global marketplace. Check out our available spaces now!
Northrock Business Park Amenities
Our amenities are designed to enhance the workplace environment and employee productivity. Outdoor amenities include:
Walking path alongside the lake and throughout the park
Entertaining/picnic areas and extensive landscaping
Signage marquees listing all tenants in the park are located at both entrances to aid your visitors in finding your office.
Northrock Business Park is a part of the North Rock Road corridor, near a multitude of restaurants, retail, and service businesses. This convenient, high-traffic location has beneficial features to your company, clients, and to your employees.
Northrock Office & Warehouse Space
Conveniently located in East Wichita at the busy intersection of K-96 Highway and North Rock Road, Northrock Business Park is easily accessible from anywhere in Wichita and surrounding communities. With two entrances to Northrock Business Park – Rock Road and Webb Road (via 34th St. North) – your employees, customers, and clients will find your location easy to reach from any direction.
Jabara Airport, which serves the Wichita business community, is located 1/2 mile to the East of Northrock Business Park. Dwight D. Eisenhower Airport, which serves the Wichita metro area, is just 15 minutes away.
Wichita Property Management
This often-overlooked feature should be a prime consideration in the selection of your new location. Anderson Management Company (AMC) offers the best in professional services to tenants. AMC leases and maintains all the buildings in Northrock Business Park; thus you deal with a single source for all of your office and warehouse space needs. AMC has an on-site office and staff to handle any building maintenance needs you may have.