There's a New Tenant in Town! Titan Surgical Group Now Calls Northrock Business Park Home
We're proud to announce a new tenant, Titan Surgical Group, who recently chose Anderson Management Company's (AMC) Northrock Business Park as the new location for their Wichita satellite location. We asked a quick few questions to get to know more about their business.
Can you tell us in a few sentences about Titan Surgical Group's services and what sets you apart in the industry?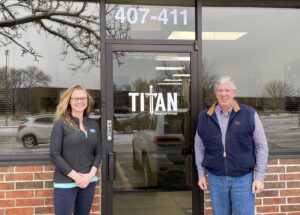 Titan Surgical Group represents Arthrex's 15,000+ products and surgical techniques across the entire state of Kansas and western Missouri. We accomplish this through a strong focus on education and training, both for our technology consultants and surgeon customers. The end goal is to live the Arthrex mission statement of "helping surgeons treat their patients better."
What amenities or features made Titan choose AMC's Northrock Business Park for their satellite office in Wichita? 
The layout of the space is conducive for our training needs as well as setting up a lab where our surgeons and their staff can get hands-on experience with the latest Arthrex products. The central location grants our guys quick access to the Wichita medical community as well as major arteries to get to the surrounding communities.
Do your services vary at your new Wichita satellite location? What are they if so?
The services we can provide in the Wichita office are similar to our other satellite offices – a central location for inventory, meeting space for our Wichita and western Kansas team, education/training opportunities for our representatives and customers.
Welcome to AMC and we look forward to your growth with us here in Wichita, Titan Surgical Group!